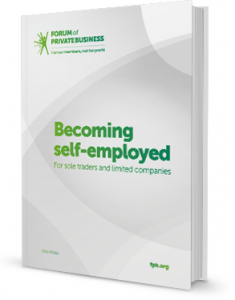 If you are thinking of starting your own business and becoming a sole trader, we have listed some of the key requirements you need to think about before leaping. Becoming a sole trader is exciting especially if this is your first business and you want to get it right.
Is becoming a Sole Trader the right thing to do?
The British government quoted that almost 60% of British businesses were sole traders in 2018.  With 5.7 million business in the UK that is around 3.4 million businesses within the UK. The British economy is driven by small businesses and becoming a sole trader you are the sole owner of your business and you pay tax on your profits after expenses.
Is it easy to register a business as a sole trader?
You will need to register online with HMRC for self-assessment. Once you have registered HMRC will send you a confirmation along with your unique 10 digit Taxpayers reference (UTR). You will need to keep this safe and use this for your self-assessment duties.
If I don't register for Self Assessment can I be fined?
As soon as you decide to become self-employed then you will need to register with HMRC. The latest that you can register is the 5th October after the end of the tax year during which you became self-employed. the tax year runs from 6th April to the 5th April the following year and penalties can be costly if you register late or don't register at all.
What is the financial risk for my business?
Your business is you and being a sole trader you are liable for your own debts. Dependant on the business you are starting up, will you incur debt and will this be risky for you in the initial stages. If you are going to incur debts quickly look to set up a limited company and the risk and legal entity if very different.
Set-Up Costs
If you set up a limited company you will need to pay and running of a limited business requires slightly more administration. To register as a sole trader costs nothing, but if you use an accountant there will be minimal costs in comparison to limited company accountancy costs.
Can a sole trader employ staff?
Yes you can but you will then need to collect income tax and national insurance contributions – you will need to operate PAYE.
Is sole trader tax easy to understand?
As a sole trader tax is paid on the profit you make and you or your accountant must complete a self-assessment tax return each tax year. You will need to include your income and expenses, as well as paying a flat rate Class 2 national insurance contributions throughout the year. If your profits are more than £8,424 (figures as of 2018/2019) this will be increased to Class 4 national insurance contributions 9% on profits up to £46,350 then 2% over £46,350 (figures as of 2018/2019). These figures will be calculated within your self-assessment tax return
Financial Records
Details financial records will be required which will also include all of your sales. Proof of all expenses, receipts, invoices, utility bills. Keeping your accounts up to date is not as difficult as it may sound and we recommend looking at Quickbooks for self-employed. Getting yourself into a routine is also key and completing your accounts either monthly or weekly whichever is easiest for you to manage. Do not leave it to build up.
When do I register for VAT
If the turnover of your business exceeds the VAT threshold which is currently £85,000 (figures as of 2018/2019) you will need to register for VAT. Becoming VAT registered will mean that you will need to charge your customers VAT and pay it to HMRC. You will also be able to reclaim the VAT you pay on goods and services that you buy.
As my business grows can I become a limited company?
Any business can become successful and grow and therefore for a number of reasons you would look to set your business to a Limited business. Look to using Company Registrations to guide you through the process of changing your business to Ltd.