Have you ever sat back to consider the effect of cybercrime on your small business?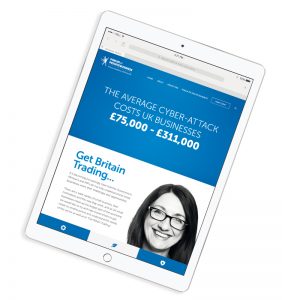 The problem of cyber-crime is growing and if you've not considered the effects of this on your business, then the time to do so is now. By ignoring the possibility of a cyber-attack, you are taking a huge risk.
The average cost of a cyber-attack on a small business is an eye-watering £25,736. This is an expense that SMEs simply cannot afford to incur.
The risks of suffering a loss related to problems with computer systems, or from holding sensitive customer data, continue to increase as businesses evolve and become ever more reliant on technology. Cyber-attacks are therefore a very real and prevalent problem for SMEs which can lead to lost revenue, a damaged reputation, legal and regulatory costs, not to mention the associated business disruption. In some cases, this can lead to business closure.
Nearly half of businesses reported a cyber breach or attack in the last 12 months.
Cyber Essentials
There is additional information from Cyber Essentials, the Government's official website, that shows you how to address and prevent the most common attacks. The Cyber Essentials scheme is designed by the Government to make it easy for you to protect yourself as well as your business.
Have you been a victim of cybercrime?
Action Fraud is the UK's national fraud and cybercrime reporting centre providing a central point of contact for information about fraud and cybercrime. Call 0300 123 20 40 or report the crime online here.
Please take the time to protect yourselves and your business and if you need to talk to someone about cyber risk please don't hesitate to ring us here at the Forum on 01565 626001. We are here to help, advise and support your business.
Useful sources:
Cyber Essentials from the Government.
Action Fraud and cybercrime reporting.