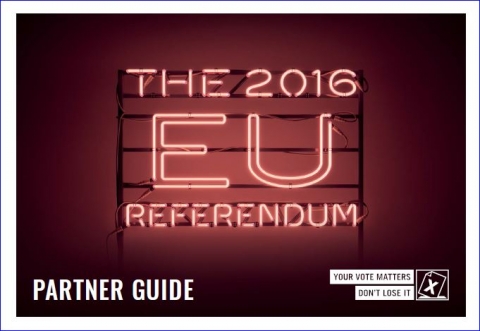 With this in mind the Electoral Commission are calling on as many communities, networks, businesses and individuals as possible to spread the word about the need to register to vote by 07 June.
Please find attached their partner pack for voters in Great Britain which provides some template resources to help this including web banners, social media content and text for bulletins and websites.
The Electoral Commission have suggested some simple things you could do to promote the register to vote message:
Print and put up posters in public facing buildings and staff rooms
Add a register to vote message to your website and bulletins/newsletters
Use social media accounts such as twitter and facebook to promote the need to register by 07 June
Encourage networks, friends and colleagues to register
Hold a voter registration drive in your workplace or community.
You can use resources here from the Electoral Commission or you may wish to create your own – bespoke and tailored to your audience targeted at encouraging your networks to register by 07 June.
The Electoral Commission are also providing specific additional resources for overseas voters, Northern Ireland voters and also a Welsh version of this guide. These additional resources will all be on the Electoral Commission's website here w/c 09 May.
Key messages
If you are not already registered to vote, you must register by 07 June to have a say in the EU Referendum which takes place on 23 June
You can register online and it just takes a couple of minutes
You'll need your national insurance (NI) number to hand, which can be found on payslips or student loan forms
If you can't find your NI number please visit the NI help service
If you are going to be away on 23 June you can apply for a postal or proxy vote (where someone votes on your behalf)
Register at Gov.UK
Please note that activity can continue until the registration deadline on 07 June unless your organisation is majority publicly funded. If that is the case please plan your voter registration activity from 7 May – 26 May. From 27 May, section 125 of the Political Parties, Elections and Referendum Act 2000 will apply. More info here