Health and safety in business continues to be a big focus for small businesses across the UK and the Twitter chat that took place supported this.
On 24th May 2017, the Forum held a Twitter chat about Health and Safety in business using the hashtag #ForumHour. It was an interactive and highly interesting discussion with a lot of debate, shared thoughts and findings. Thanks go to the participants who contributed to a successful and very insightful #ForumHour.
To read the summary including key findings, insights and supporting tweets, please click on the #ForumHour image below.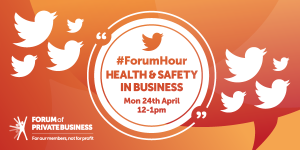 What is #ForumHour?
#ForumHour is a Twitter-based discussion in real time based on real issues faced by UK small businesses. You can find out more here.
Details of the next #ForumHour
Join us for our next Twitter chat on Monday 26th June at 12 pm. The subject for this month will be on how to make a business profitable and improve productivity, a topic that is top of the list for any small business' agenda. Follow us @The_FPB and use the hashtag #ForumHour to join the discussion.
We look forward to tweeting with you then.