We at the Forum of Private Business are constantly looking for ways we can improve the service we offer our members.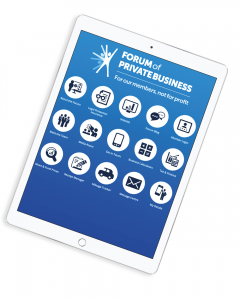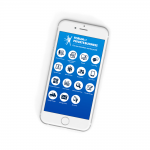 Having recently rolled out our new website in September 2017  we are constantly making improvements for our members.  We now have a Free Compliance Guide which is inclusive of a Forum membership and we are now proud to announce the launch of our brand new Forum App.  It's completely free of charge and it's available for iPhones, iPads and Android devices.
Visit your app store and search today for MyAdvisor, one you have downloaded MyAdvisor enter the code Forum2018 and you will be directed to our own unique and informative App for the Forum of Private Business.
Please note if you have the previous version of our app you will need to delete it and replace with our new one!
What do we have in our App
We are committed to finding ways to communicate and interact with members in the most efficient possible way.  The new App enables us to send push notifications to all App users.  We will be using this feature to share important news, deadline reminders and financial updates.
We have designed our App to provide as much information as you could ask from us, so we have included links to enable members to log directly into their account along with all relevant business information that we think will be useful. We have added business tools that we definitely think are invaluable tools and features such as financial calculators, tax tables, logbooks, receipt and income management, instant access to the latest financial news and information and valuable company info, directly from us at the Forum.
So the next time you need to get hold of us in meeting quickly or obtain a tax rate or work out a VAT calculation, our new App will be your go-to tool.
Here are some of the items that you will be able to find:
Photo Receipt Management, Email and Store
Do you lose receipts? Using the Forum App, you can now keep track of your receipts and expenses. With minimal effort, you can take a picture of any receipt and save it to our App. Any additional information can be added later and receipts can be stored by amount, category, and date. It will help you track all your expenses with ease and enable us to interact digitally with you.
GPS Mileage Tracking and Management tool
When it comes to mileage tracking we have made it easy. Using the built-in GPS on your device, it will automatically track your mileage, helping you to record every single trip at the touch of a button. It also manages trips as well, storing them and allowing you to view, edit or email them with complete ease.
It's available for iPhone, iPad and Android devices completely free of charge right now!
Enjoy our App with our compliments!  Remember you need to log into the app with Forum2018