Health and well-being in business and stress in the workplace
Health and well-being in business and workplace stress are currently very topical and this twitter chat was aimed at supporting the launch of our new Health and Safety guide in April. The H&S guide supports our members with managing health and safety requirements in their business. It's imperative that small businesses provide a safe working environment for all employees and that procedures are put in place to maintain and promote individual health and well-being which in turn helps to minimise workplace stress. The details of the current Health and Safety guide can be found here.
Last year, we held a #ForumHour on Health and Saftey in business. You can see the findings here.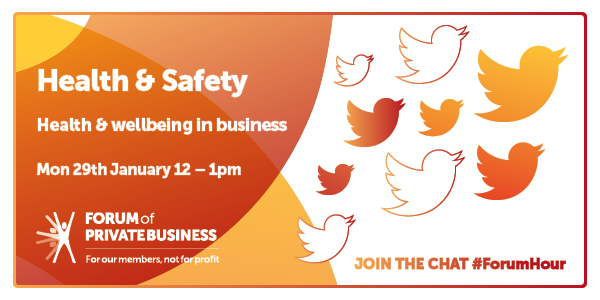 Findings from the chat
Thanks to everyone who participated in #ForumHour. It was another very successful Twitter chat.
Key findings include:
There are numerous causes of stress in the workplace including excessively high workloads, poor (and maybe stressed) management, client pressure and unrealistic deadlines making people feel rushed and under pressure. Staff can feel overwhelmed with so many demands pulling people in all directions. Other reasons could be ever-rising targets, the pressure to be always working, insufficient rest time, commuting to work (off to a bad start before they even get to the office), interpersonal problems and job insecurity. Quite often, however, stress can be created by the individual. Another comment was around stress being caused by falling workload, loss of business accounts, justifying an extra business person and not being busy enough.
To minimise stress, businesses should ensure that staff take regular breaks, that they develop the skills of their employees and that there is a good communication between employer and employee to understand workload, roles and duties and to identify and control stress factors. One business shared that they have part of their ground floor dedicated to their employees where they can relax and play pool, table tennis or the XBox/PS4 as well as watch television and play on the swings. This area also helps staff to mingle with other departments. Companies can develop a Stress Management Policy where stress points can be identified and procedures put in place to control them. Other suggestions include creating a culture where it's ok to feel overwhelmed, ensuring staff take breaks, encouraging staff to take regular breaks, exercise, policies to encourage work/life balance, trusting, not micro-managing and anti-bullying policies. Gym membership is also popular.
Ways in which a company can promote health and wellbeing include teamwork, ensuring staff are treated equally, regular breaks and where employees are praised for their hard work. One business suggested healthy eating where staff have access to free fruit every week. Drinking plenty of water also helps.
Prioritising health and wellbeing is important and should be prioritised in the workplace as the mind works more effectively and efficiently. It was suggested that people take a look outside the window regularly so they get natural daylight which boosts morale and a healthy mindset. Other companies actually hold yoga sessions in their workplace weekly to help promote well-being and teamwork.
Building relationships and trust is key to health and wellbeing in a business. People who work for a business built on trust are more likely to believe the management has their welfare at heart leading to self-fulfilment and loyalty. It's also useful to have coping strategies, some of which can be as simple as talking to a colleague, switching off emails, using autoresponders when I need to be undisturbed and listening to music when you need to concentrate. Other coping strategies include going to yoga, swimming or just getting out of the office at lunchtime for a walk and some fresh air.
Healthy staff leads to a healthy business. When staff are happy and relaxed, they feel valued, have a balanced life and are naturally in a better place physically and mentally. They are also likely to be more productive, efficient and loyal.
Stress needs to be managed in the correct way and the difference between good stress and distress identified. Eustress is the "good stress" that is incredibly motivating, energising, and can create focus and amazing creativity. Distress is when that high-stress level just doesn't go which can then lead to unhealthy coping strategies including crying in the toilets, zoning out, being busy but totally unproductive, gossiping about the boss and other colleagues, smoking and drinking and potential break-down!
LOOK OUT FOR DETAILS OF THE NEXT #FORUMHOUR COMING SOON.