On Monday 26th June, the Forum held a Twitter chat on the subject of business productivity and profitability. Here are the findings collated from those involved, supported by the tweets from the participants.
Improvement in business productivity and growth in profitability are two major drivers for UK small and micro businesses. To dig deeper on this subject and to discover more from real UK businesses, the Forum held a Twitter chat on the subject using the hashtag #ForumHour.
There was a fantastic response and we had many small businesses and individuals interacting with us and sharing their views on how they improve their own business productivity and productivity.
What do productivity and profitability really mean?
Productivity measures how much each employee makes in a given time period. Better productivity means increased efficiency which results in a higher level of competitiveness.
Profitability is the ability of a business to earn a profit and a profit is what is left of the revenue a business generates after it pays all expenses related to producing a product and other related expenses.
Research findings from #ForumHour
Many thanks to all those who were involved and for contributing to another very successful #ForumHour. Click on the image below to read the research findings and to find out more about what people and businesses think about business performance and productivity.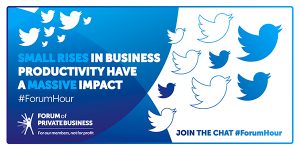 What is #ForumHour?
#ForumHour is a monthly Twitter-based discussion in real time based on real issues faced by UK small businesses. You can find out more about our Twitter chats and how to get started here.
Details of the next #ForumHour
Join us for our next Twitter chat on Monday 17th July at 12 pm. The subject will be about
'Engaging, recruiting and training the next generation of staff'.
This is a topic that is top of the list for any small business' agenda. Follow us @The_FPB and use the hashtag #ForumHour to join the discussion. We look forward to tweeting with you then.