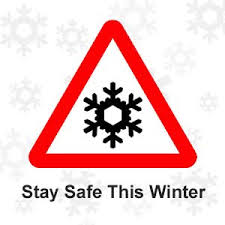 Many people love the winter time for its open fires, cosy evenings.. For others, it means cold mornings, dark nights and icy roads, all of which amount to hazardous driving conditions for motorists.
To keep safe and minimise potential risk, road users need to be well prepared and take extra precautions.
To help motorists through this hazardous season, the Forum has collated a useful guide that provides professional advice on safe winter driving including plenty of information on how to keep your car in tip top condition.
Ian Cass, Chief Executive at the Forum explains:
"Everyone needs to prepare for the coldest season of the year especially if you are a small business where time wasted can equate to lost money and lost opportunities. By following these easy steps from the Forum, it is possible to ensure that your car runs as smoothly as your business"
Winter Driving
Leave plenty of time for journeys
Remember that there is a higher risk of road accidents during the winter months so always leave plenty of journey time. Before you depart, it is wise to check the traffic on your planned route and, if there is congestion, plan an alternative course.
It is also worthwhile remembering that, over Christmas, roads are prone to additional congestion as people travel to see family and friends. So, if you do have any business meetings or have made arrangements to catch up with customers, ensure you check the traffic and set off in plenty of time.
Prepare for the cold weather
Don't forget that wintry conditions can hit at any point so make sure you pack your car with some essential items. Here is a useful checklist:
Warm clothes
Blankets
Food and water
Torch
Mobile phone and charger
Travel snow shovel
De-icer
Small bag of rock salt in the boot
Low winter sun
Remember that the winter isn't always about coping with icy, cold conditions – it can also mean beautiful sunny days. Low winter sun can be dangerous to drivers reducing the ability to see the roads clearly. So when you head off to those important business meetings, always make sure you have a pair of sunglasses to hand and that you use your car visor to block the glaring sunshine.
Keep your mind on the road and not what you are going to buy Auntie Mavis for Christmas
Christmas time can be stressful for all sorts of reasons and, if you're a business owner, there are additional things to consider. All of these thoughts can lead to a preoccupied mind which may result in a lower standard of driving or bad habits creeping in. In this situation, it is worthwhile reminding yourself that it is imperative to keep focused on the task at hand and to drive safely. Not only is it dangerous for you but you risk the lives of others plus there are more police on the road.
Be extra vigilant in car parks and town centres
If you are dashing from meeting to meeting, or just driving to work one morning, you will need to apply extra vigilance. Car parks will be extra busy and there may be a few merry shoppers or distracted pedestrians around! Travel at a sensible speed and be extra careful if the roads are icy or if it's been snowing as your braking distance will increase dramatically.
Find out more information about winter driving and keeping safe during the chilly season.
Winter car maintenance
Why is it that car problems tend to occur over the winter months, costing extra money and causing disruption to your schedule? By looking after your car and being prepared, it can help you get through the chilly season and keep your motor ticking over. This is critical if you're a small business owner when you rely on your car to see customers or catch up with suppliers.
Winter car check
There are some simple checks you should carry out before the winter sets in to make sure your car survives the winter. Some you can do yourself at home and others you may need help with. Some garages even provide basic winter checks for free.
Battery voltage and charging capacity
Brake pads and discs
Coolant/Antifreeze levels
Engine oil level
Exhaust noise
Exterior lights
Heating and air conditioning
Windscreen cracks, dirt and smears
Tyre pressure
Depth of tyre tread, cracks and splits
Spare tyre and repair kit
Wiper blades
Screen wash level and strength
Regular eye examinations
One tip that we advise everyone doing is making sure your eye sight is up to scratch.
A new campaign was recently launched by GEM Motoring Assist which calls upon UK drivers to carry out regular eye tests.Carried out in partnership with Vision Express, the new research suggests that 15% revealed they had not had an eye test since passing their driving test – meaning that on average some drivers have not had an eye check for over 14 years.
More information on the importance of regular eye examinations is available.
Additional reading
Additional information is provided by the Fuelcard people.