Automatic enrolment (AE) is critical for all types of business, from start-ups and new employers to established businesses who are enrolling new staff. Here we focus on communicating the important messages to support businesses through the AE process.
For new employers and start-up businesses
If you've recently become an employer, it's important you don't forget to tell The Pensions Regulator who your nominated key point of contact is.
Research by The Pensions Regulator indicates that employers who provide a key point of contact are more likely to comply with their duties and less likely to be fined. Nominating a contact also means that The Pensions Regulator can keep in touch with helpful reminders.
Nominate a key contact with TPR so that you receive regular emails to remind you what you need to do to comply, and by when.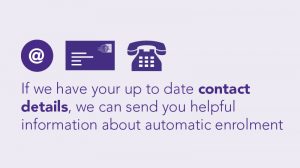 Choosing a workplace pension scheme? Find out how today.
If you've recently become an employer or thinking about taking on staff for the first time, you will need to consider a number of things, including choosing a suitable workplace pension for your staff. When choosing a scheme it's important employers consider the costs, whether it will work with the payroll system – but also, what tax relief method it uses. The Pensions Regulator has online guidance to help you understand what you need to look for when choosing a pension scheme, including what tax relief method may be appropriate.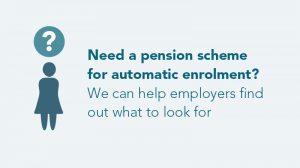 For employers who have already enrolled staff
Do you know what your ongoing AE responsibilities are? Making regular payments into your staff's pension scheme is one of them, and it's important that you comply – it's the law.
Employers have a number of ongoing AE responsibilities, including monitoring the ages and earnings of your staff, enrolling them in a scheme and keeping records. But you are also responsible for ensuring regular contributions are made to your staff's pension. On 6 April, the minimum amounts employers have to pay into workplace pensions increased, and it's important you check that the right amounts are being paid into your scheme on time – don't risk a fine.
TPR has online guidance on your ongoing duties, including maintaining contributions here.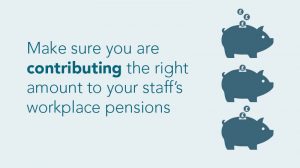 Employers, don't forget to tell TPR how you've met your AE duties – find out how today.
Over 1 million employers have completed AE, but there are still hundreds of thousands to go. If you're one of these employers, don't forget to tell TPR how you have completed your duties by completing your declaration of compliance.
Don't risk a fine – The Pensions Regulator will use its powers where necessary to ensure compliance. Use TPR's declaration of compliance checklist to help you work out you'll need to do.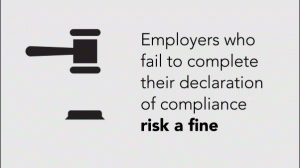 Remove featured image