As a member of the Forum of Private Business, you are covered by a leading insurance policy which has been negotiated to provide your business with comprehensive protection against the most common legal pitfalls experienced by businesses.
Our cover available is summarised below and for the full policy wording documentation please download our Legal Protection for your Business.
Note: You must contact the Forums membership helpline on 01565 626001 at the outset of a dispute and follow the advice given. It is a condition of the insurers liability that you seek and follow advice from the Forum as soon as you become aware of a situation that may give rise to an employment dispute, including but not limited to carrying out disciplinary, dismissal or redundancy action, if an employee walks out with or without notice, varying the terms and conditions of employment, upon notification of a complaint of discrimination.
AXA Insurance UK plc is regulated by the Financial Conduct Authority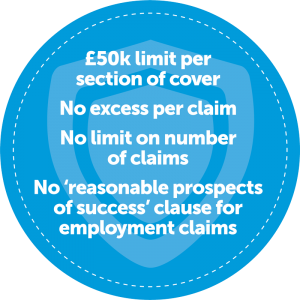 ✓ Employment Disputes
✓ Health and Safety Prosecutions
✓ Tax protection
✓ Contractual cover/disputes
✓ Directors and officers' liability cover
✓ Criminal prosecutions
✓ Statutory license protection
✓ Jury Service
✓ Property disputes
✓ Data protection
✓ Personal injury
✓ Wrongful arrest defence
If you would like to find out more information please use the contact form below or contact our Membership Advisors on 01565 626001.