Messages for new employers and start-up businesses
Thinking of employing your first member of staff? Make sure you know your automatic enrolment duties. It's the law.

As a new employer, you'll have a number of things you'll need to think about – such as deciding how much to pay, drawing up a contract of employment, and taking out employer indemnity insurance. Automatic enrolment – where you'll need to put certain staff into a workplace pension and pay contributions into the scheme – is just one of the legal duties you need to meet as an employer.
The Pensions Regulator has information on their website to help you understand what you need to meet your legal duties, and by when.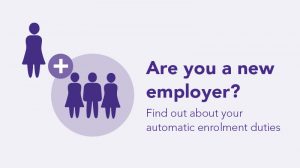 Have you nominated a contact with The Pensions Regulator?
Research by The Pensions Regulator indicates that employers who nominate a contact are more likely to comply with their duties and less likely to be fined. Nominating a contact also means that The Pension Regulator can write to you with helpful automatic enrolment reminders.
It's crucial that you nominate your contact with The Pensions Regulator without delay.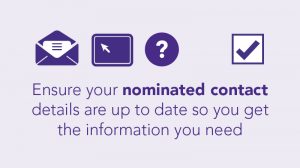 Messages for employers who have already enrolled staff
Are you ready for the increases in contributions on 6 April 2018? It's the law.
By law, minimum contributions for workplace pensions are increasing on 6 April 2018, as the table below shows.  All employers with staff in a pension scheme must take action to ensure that at least the minimum amounts are being paid.
| | | | |
| --- | --- | --- | --- |
| Date effective | Employer minimum contribution | Staff contribution | Total minimum contribution |
| Until 5 April 2018 | 1% | 1% | 2% |
| From 6 April 2018 | 2% | 3% | 5% |
| From 6 April 2019 | 3% | 5% | 8% |
The Pensions Regulator has helpful guidance on their website, including a letter template that you can use to communicate the increases to your staff.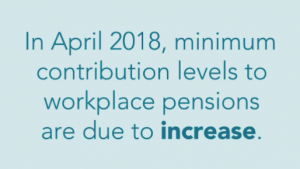 Automatic enrolment is an ongoing process – it does not end on your duties start date.
If you've already automatically enrolled your staff, don't forget that your automatic enrolment duties continue – The Pensions Regulator carries out spot checks around the country, so make sure you know what you need to do and are up to date with your ongoing duties.
You'll need to continue to monitor the ages and amount you pay your staff to see whether you'll need to enrol them into a pension scheme. You'll also need to manage requests to join or leave the pension scheme and keep accurate records of how you've met your legal duties.
The Pensions Regulator has helpful guidance to help you understand your ongoing duties.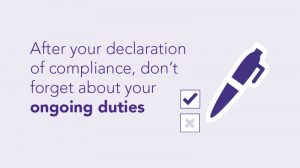 More information
The Pensions Regulator can support you with lots of information on their website or you can call the Forum helpline on 01565 626001 for further advice and support.