#MicroBizMatters Day is the only annual day of recognition, action and learning for micro business owners anywhere, those that employ 0 to 9 or turnover up to £2 million annually. Being part of this rocking day is only a click away! Decide how you will be part of the #MicroBizMatters Day phenomenon then start spreading the word.
The Forum of Private Business has been an active supporter of MicroBizMatters and supporting Tony Robinson OBE and Tina Boden in the quest to make business better for micro businesses.
11th January 2019 is the next yearly event which will see our own Ian Cass MD of the Forum being part of the day and attending workshops which will be live streamed from for all to watch during your working day.
We have the opportunity to invite you to come along to the day in Hull and join in on the fun, business talk and more …. to register for your ticket via Eventbrite, with limited tickets now being available.
This registration process will ensure we don't lose anyone and once you are registered you will be emailed a PDF with the full programme well before Friday, January 11th 2019.
The Forum workshops are at 10.30am and 2.15pm in the main room.
#MicroBizMatters Day format:
It is a massive social media event and all guests in Hull are encouraged to tweet, record, promote, take selfies and share the content of the day to their networks, members, customers and suppliers.
All guests should use the #MicroBizMatters

 hashtag throughout this day.of recognition, action and learning for micro business owners anywhere,

 
Recognition: In 6 years, with 5 #MicroBizMatters Days, we've made 'micro-business' important – #NotAnSME
Action: Give a little time to help another business owner #IGave11 minutes #PayIn30Days #Indie25ER
Learning: Learn from each other #PowerOfPlenty and watch the @YouTube & #Facebook live streaming.
It is, noisy and fun – there are no speeches – Tina and Tony interview their guests. #MicroBizOwners are encouraged to drop in when they like, for as long as they like, dress as they like to feel comfortable and confident. Tina and Tony love hats and the colour red!
Our Small is Beautiful Roll of Honour will be published on #MicroBizMatters Day. Any of your members wishing to add their business name to the listing will need to do so by mid-December. Here's the link https://www.linkedin.com/pulse/you-put-your-business-name-behind-small-beautiful-tony-robinson-obe/
Arriving:
Guests can arrive at the KCom Craven Park Stadium (home of Hull KR rugby league team) anytime between 9.15 am and the 3 pm formal finish of the social media broadcasting.
Social media broadcasting schedules:
In the studio – google hangouts with guests in Hull and around the world to be broadcast on youtube. Tina is the main host for these sessions, assisted by Paul. Hull guests are allowed to record and broadcast these studio sessions but a maximum of ten guests at any time is allowed in the studio and must remain quiet throughout.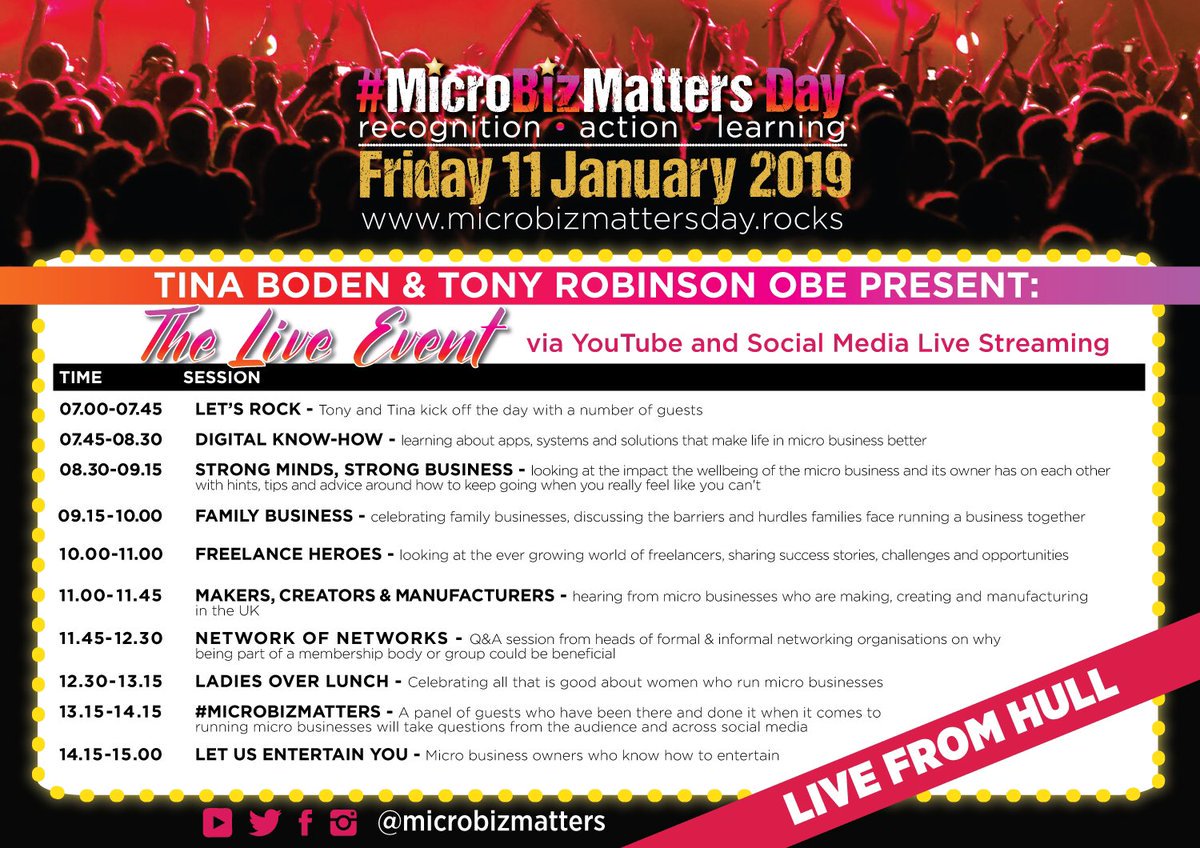 Stands, Workshop and Red Carpet schedule
In the main room where refreshments and a buffet lunch is served, there are three areas where guests can video, take photos and share content on social media. There are a small number of stands with young Hull entrepreneurs showing and talking about their new businesses. There is a red carpet area where Tony interviews celebrity guests and business owners, assisted by Ed, and there is a workshop area. The workshop schedule is below.
Workshops
10.30am to 11.15am Forum of Private Business Late Payment
11.30am  to 12.15am Federation of Small Businesses Digital Taxation
12.30am  to  1.00pm International Association of Book Keepers 'Why are indie bookkeepers micro business owners best friends?
1.15pm to 2.00pm JCYEB, GEW Hull, Hull Enterprise and Yorkshire in Business Community Support for micro business owners 
2.15pm to 3.00pm Forum of Private Business Restore the High Street  
We look forward to welcoming you, so do let us know if you are coming along