We want to stress how important this message is for members and non-members with reference to Pension Auto-enrolment
Please don't ignore any letters that you may receive from The Pensions Regulator, especially Compliance Notice's as these usually relate to fines and penalties and these will simply not go away until they are dealt with. Penalties can start with an initial fine of £400 followed by a daily penalty varying between £50-£10,000 per day, followed up with court action by the regulator for non-payment of fines something that no business wants to have to deal with.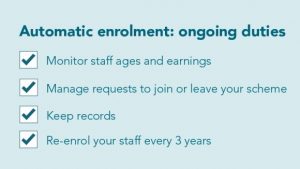 This will be an ongoing situation as re-enrolment of eligible employees has to be undertaken every three years under current rules as well as a re-declaration of compliance being submitted to the regulator every 3 years etc. Here at the Forum, we can easily help you avoid all of this through our Pensions partners Morfitt and Turnbull and Smart Pensions if you have any further queries just get in touch.  You can also find further information through the pensions regulator website www.thepensionsregulator.gov.uk or www.autoenrolment.co.uk which has the details of smart pension and guidance on auto-enrolment.