The Forum of Private Business is a not for profit membership organisation that reinvests its profits into improving the products and services for members.
The Forums Hall of Shame highlights questionable behaviour, as well as late payment practices usually involving larger companies and this, has led to us looking at the area of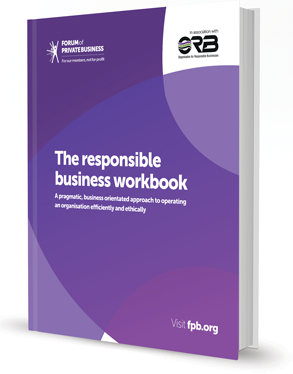 ethical behaviour within businesses.  Our members and we ourselves embed ethical standards of operation within our businesses and we want you to do the same. Our members who are a majority of small business employers are closer to their own workforce, suppliers and the communities that they work within than many of the UK's larger organisations and multinationals, who frequently seem quite happy to work just within the law or occasionally outside of it.
This unprincipled corporate behaviour leads to more regulation and red tape which affects all levels of business and has more of a detrimental effect on the smaller businesses who do not have the same resources to deal with it.
So, whilst lobbying Government bodies about this and pointing out the inequalities in the system, we also feel it is important to encourage our members and others to maintain their own ethical stance. With this in mind, the Forum of Private Business teamed up with Organisation for Responsible Businesses to provide the Responsible Business Workbook.
This workbook covers the requirements of The Responsible Business Standard which has been developed by The Organisation for Responsible Businesses and validated by Anglia Ruskin University. This quality system has been designed specifically for small businesses, franchisors and other organisations such as social enterprises and charities that wish to demonstrate good social and environmental practice, maintained and enhanced within a solid business foundation.
As a member of the Forum you can take the opportunity to undertake a full audit and achieve Responsible Business Standard certification, but even if you feel your business would not benefit from an audit we are confident that you will find the guide an invaluable toolkit. Certification is valid for 2 years from the date of issue.
The Forum of Private Business is proud to have been awarded a Silver certification.
Note: Forum Guides can be an additional charge subject to Forum Membership subscription. For any queries please contact our membership advisors on 01565 626001 or email

To join the Forum online today select the number of employees within your business from the table below and follow the instructions.
Membership Levels (Click to expand):
Member helpline & portal
Access to our legal partner***
Business Advise, Support & Protect
Management Liability Insurance**
Discounted Company Registration Service
Free Start-up Guide
Free exclusive mini guides
150+ customisable templates
Regular newsletters
Legislation updates
The Forum Start-up Membership is available for businesses that are in the start-up phase of 1 year or less and have zero employees.
A membership for your business needs and we provide the support when you need it through our legal partner. Immediate access will be available to our Forum partner network, to our customisable templates, business resources and a closed group discussion network forum, which is for members only. All will be available through your membership login details that you will be issued with on sign up to the Forum Start-up Membership
Your membership will continue at the exclusive price of £99 per annum* for a further 2 years subject to you not employing staff (temporary, full or part-time). At the end of your first 3 years of trading, the membership price will be charged at our standard
Forum membership
prices as an established business.
Member helpline & portal
Access to our legal partner***
Business Advise, Support & Protect
Management Liability Insurance**
Free Compliance Guide
Free exclusive mini guides
150+ customisable templates
Regular newsletters
Legislation updates
Comprehensive range of business guides*
Forum Membership is available for businesses that are established and employ staff, part-time, full-time or temporary.

A comprehensive membership for your business requirements, receiving business support with Employment Law, Health and Safety, Finance, Procurement and PR to name a few. Immediate access will be available to our Forum partner network who will be able to share their knowledge and advice in some of the most complex of situations you may come across in your business.

Customisable templates, business guides, resources and a closed group discussion network forum for our members only will also be available through your membership login details that you will be issued with on signing up to a Forum Membership
Member helpline & portal
Access to our legal partner***
Business Advise, Support & Protect
Management Liability Insurance**
Free Compliance Guide
Free exclusive mini guides
150+ customisable templates
Regular newsletters
Legislation updates
Comprehensive range of business guides*
Forum Membership is available for businesses that are established and employ staff, part-time, full-time or temporary.

A comprehensive membership for your business requirements, receiving business support with Employment Law, Health and Safety, Finance, Procurement and PR to name a few. Immediate access will be available to our Forum partner network who will be able to share their knowledge and advice in some of the most complex of situations you may come across in your business.

Customisable templates, business guides, resources and a closed group discussion network forum for our members only will also be available through your membership login details that you will be issued with on signing up to a Forum Membership
Member helpline & portal
Access to our legal partner***
Business Advise, Support & Protect
Management Liability Insurance**
Free Compliance Guide
Free exclusive mini guides
150+ customisable templates
Regular newsletters
Legislation updates
Comprehensive range of business guides*
Forum Membership is available for businesses that are established and employ staff, part-time, full-time or temporary.

A comprehensive membership for your business requirements, receiving business support with Employment Law, Health and Safety, Finance, Procurement and PR to name a few. Immediate access will be available to our Forum partner network who will be able to share their knowledge and advice in some of the most complex of situations you may come across in your business.

Customisable templates, business guides, resources and a closed group discussion network forum for our members only will also be available through your membership login details that you will be issued with on signing up to a Forum Membership
Member helpline & portal
Access to our legal partner***
Business Advise, Support & Protect
Management Liability Insurance**
Free Compliance Guide
Free exclusive mini guides
150+ customisable templates
Regular newsletters
Legislation updates
Comprehensive range of business guides*
Forum Membership is available for businesses that are established and employ staff, part-time, full-time or temporary.

A comprehensive membership for your business requirements, receiving business support with Employment Law, Health and Safety, Finance, Procurement and PR to name a few. Immediate access will be available to our Forum partner network who will be able to share their knowledge and advice in some of the most complex of situations you may come across in your business.

Customisable templates, business guides, resources and a closed group discussion network forum for our members only will also be available through your membership login details that you will be issued with on signing up to a Forum Membership
Member helpline & portal
Access to our legal partner***
Business Advise, Support & Protect
Management Liability Insurance**
Free Compliance Guide
Free exclusive mini guides
150+ customisable templates
Regular newsletters
Legislation updates
Comprehensive range of business guides*
Forum Membership is available for businesses that are established and employ staff, part-time, full-time or temporary.

A comprehensive membership for your business requirements, receiving business support with Employment Law, Health and Safety, Finance, Procurement and PR to name a few. Immediate access will be available to our Forum partner network who will be able to share their knowledge and advice in some of the most complex of situations you may come across in your business.

Customisable templates, business guides, resources and a closed group discussion network forum for our members only will also be available through your membership login details that you will be issued with on signing up to a Forum Membership
Member helpline & portal
Access to our legal partner***
Business Advise, Support & Protect
Management Liability Insurance**
Free Compliance Guide
Free exclusive mini guides
150+ customisable templates
Regular newsletters
Legislation updates
Comprehensive range of business guides*
Forum Membership is available for businesses that are established and employ staff, part-time, full-time or temporary.

A comprehensive membership for your business requirements, receiving business support with Employment Law, Health and Safety, Finance, Procurement and PR to name a few. Immediate access will be available to our Forum partner network who will be able to share their knowledge and advice in some of the most complex of situations you may come across in your business.

Customisable templates, business guides, resources and a closed group discussion network forum for our members only will also be available through your membership login details that you will be issued with on signing up to a Forum Membership
Have a question before joining? Send us a message... Click here
* Forum Start-up Membership of £99 per annum is limited to a start-up business in their initial first 3 years of trading. Forum membership price will become applicable at the end of the 3rd year or if you employ an employee, whichever comes first. Forum membership is available for established businesses. Full T&C's apply which can be found here
** Annual membership covers all directors/principles; there are no hidden costs or fees
*** you must contact the member helpline before acting in any situation which might result in a tribunal to ensure your business is covered by our legal expenses insurance
Thinking of becoming a member, but have a couple of questions? Ask our Membership Team: