On 21st June, the Queen gave a speech marking the state opening of Parliament, the contents of the speech highlights the priorities of new ministers and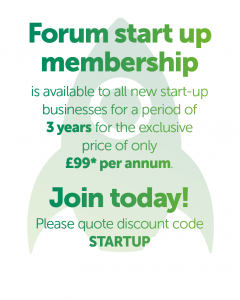 sets the scene for Parliament.
Following the Queen's speech today, Ian Cass, MD of the Forum responds:
Quite rightly the Queen's speech talked first about the economy and the importance of clear communication regarding the Brexit negotiations to ensure business confidence. She also highlighted the Government's commitment to ensuring investment and growth as well as the implementation of an industrial strategy. We hope this industrial strategy displays an understanding of the measures aimed at helping small and micro business, which the Forum has been active in seeking.
High-speed rail and improved infrastructure are also welcomed particularly if it links the more remote parts of the UK and helps meet the Forums hopes for a more balanced UK economy.
There was also an announcement regarding the commitment to an increase in the Living Wage, something we know that many of the Forums members can't even afford to pay themselves. So while I'm sure we all welcome a fair wage for employees it would be good to see the Government doing something to help hard pressed, micro and small business owners.
Finally, there was a mention of a further increase in workers' rights and regulations. We hope that the Government gets this regulation right as we already know the Government's own independent Regulatory Policy Committee reviewed 318 regulation submissions in 2016 and they rejected 28% or 89 submissions. In detail, regarding these rejections, it states:-
"Common issues that we have identified include: – missing costs, unjustified assumptions, lack of clarity; and – assessment of impacts on small and micro businesses – too often, departments have failed to provide relatively basic evidence such as the proportion of those affected by the regulation that is likely to be small or micro businesses. In addition, we have seen very few examples of robust further analysis of the potential policy consequences of any exclusions or mitigations for small businesses". While the Forum and its members welcome good regulation, poorly thought out or inappropriate regulation places a burden on small and micro businesses, so they need to get this right.
Here at the Forum, we are very aware that small and micro business members make up 99.9% of all UK business, so we encourage the Government to consult thoroughly with this sector of business, to listen to them and to act accordingly. This will be critical if we are going to develop a strong and vibrant economy that will benefit the whole country.