On the 7th September, staff at the Forum will be marking the company's 40th birthday with pizza, cake and lots of balloons!
Forty years of business is a great business achievement and the Forum is proud of what it has achieved in that time. The company has moved with the times but the ethos of providing a 'uniquely effective channel through which the voice of private businesses can be heard' still remains today. This sits alongside its main objective of advising, supporting and protecting small UK business.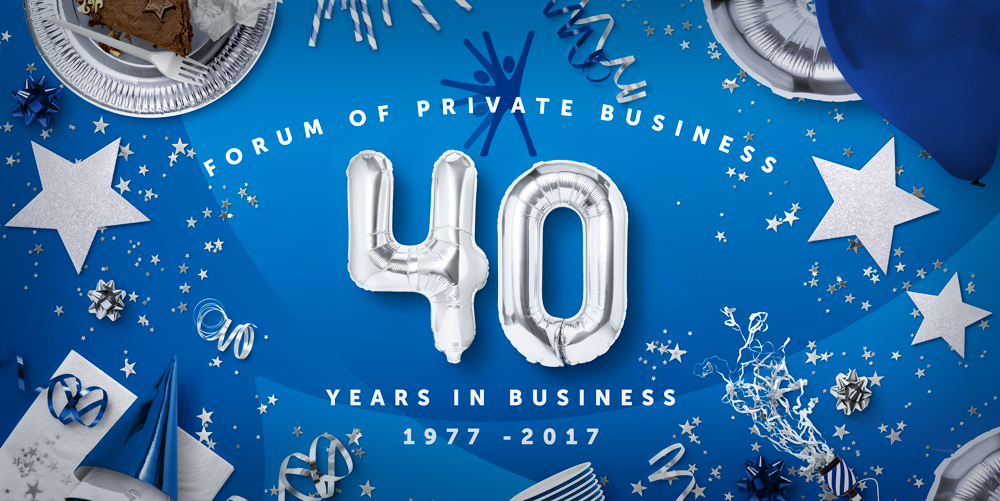 Company history
On the 7th September 1977, a Christian calling drove Stan Mendham to become a small business champion by setting up The Forum of Private Business.  The basic philosophy back then was "the safeguard of individual choice, the encouragement of free competitive enterprise and sense of social obligation". Stan wanted to ensure that the Forum gave small and medium sized firms a voice alongside big corporations and trade unions, by ensuring their concerns were raised directly in Parliament, through MP's.
Stand Mendham showed real tenacity in the fight for change for the small business community. After 10 years of campaigning his spirit and achievement were recognised in 1998 with a victory for the introduction of a statutory right to interest on the overdue commercial debt. The following year he went on to receive an OBE at Buckingham Palace for his services to small businesses.
In the year 2000, Stan passed the day-to-day operation to Nick Goulding. Today the business is managed by local Knutsfordian, Ian Cass, and the business continues to go from strength to strength. You can follow Ian Cass on Twitter @IanCassMD.
Current day
Giving businesses a voice still remains at the heart of the Forum as does advising, supporting and protecting small businesses. We know how important it is to support our members' businesses, from a start up in the early years of their operation, to businesses that have been trading for many years.
The Forum remains a not for profit organising, pumping back all profits made back into the business and for the good of its members.
The home of the Forum is a beautiful Grade II listed building called the Ruskin Rooms based in Knutsford, Cheshire and this continues to be the main office of the Forum to this day.
Knutsford Heritage Open Day
The Forum throws open its doors of the Ruskin Rooms to the public on the 7th September celebrating the UK's heritage and oldest buildings. The Forum feels very honoured to be sharing iits 40th birthday on such a momentous and happy day. The Forum's offices are also open on Saturday 9th September from 11-1pm.
You can keep up to date with the Heritage Open Days by following @heritageopenday #HeritageOpenDay.