The Forum is excited to announce that we will be launching our first Twitter chat on Wednesday 24th May from 12 pm – 1 pm. We plan to hold these chats every month around different topics and the subject for this month will be Health and Safety.
Please look out for the hashtag #Forumhour a week before and join us at 12 pm on 24th May 2017.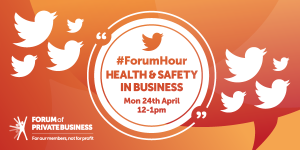 Why Twitter Chats?
Twitter chats are a great way for people and companies to engage with others, find new followers and make new connections. They also enable you to talk to your customers directly and learn new things – all at the same time.
What are Twitter Chats?
Twitter chats allow you to engage with other twitter users about a specific topic using a hashtag and provides the platform for a healthy online discussion.
Our topic is all around Health and Safety to tie in with the launch of our new 2017 Health and Safety guide last month and the hashtag we will be using is #ForumHour. Any communication we now do about our Twitter chat will contain the hashtag #ForumHour enabling other users to search for the hashtag and read all the tweets under this one subject.
How do you get started?
The best way is to participate in others' Twitter chats and observe how they do it. Not only will this give you a better idea of how it works but you are likely to engage with new people and get new followers of your own.
Perhaps inform some external colleagues of your intentions and ask them to get involved with your first few chats. The more people involved the better the flow of conversation will be.
The great thing about Twitter chats is easy to set up and don't cost anything.  You'll just need to dedicate some time to set it up but once you get the hang of it, future chats will be much easier to manage and will take up less time.
To let us know about your Twitter chats or to engage with the Forum on Twitter just use the handle @the_FPB and include the hashtag #ForumHour
We look forward to tweeting with you and look out for the details of our next Twitter Chat coming soon.