December is here and that means one thing, Christmas is around the corner. The Forum has written some tips for you to follow for the festive period, from energy saving to rewarding your staff.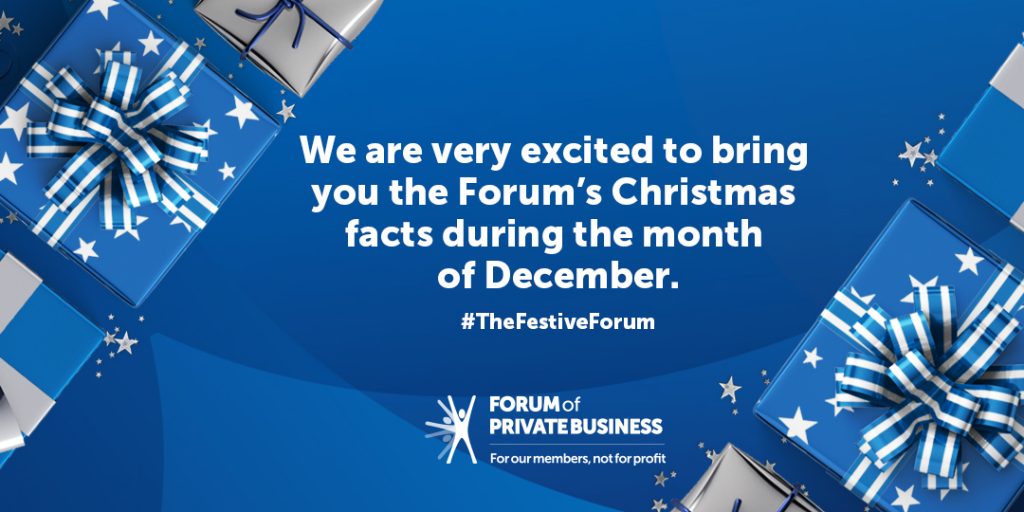 Saving Energy at Christmas
Christmas is an expensive time for everyone, and when it comes to energy bills even the workplace can suffer from a rise in expenses. We have a few helpful hints that could help you save energy over the festive period.
When all employees leave the workplace for the Christmas holidays ensure that all non-essential electricity items such as computers, printers, photocopiers, televisions are turned off at the plug socket and not on standby.
Turn off all lights in offices including desk lights, and even display lights that you don't need to leave on. If for any reason you need to leave lights on for security purposes, use a timer to switch the lights on at certain times.
Christmas lights are nice to gaze at, but a waste of electricity when no one is there to enjoy them. They are also a high hazard of causing fires, so make sure to switch them off when they are left unattended.
We are lucky to have clean drinkable water on tap in the UK. Make sure you're not wasting any of it by ensuring that all taps in the workplace are turned off properly, and are not dripping any water throughout the Christmas holiday period.
Make sure to turn down the heating at the minimum temperature to save energy, but to also protect the building from any frost.
Rewarding Staff
Treating staff with a reward at Christmas is a great way to make them appreciated, but can also be expensive for a small business. Here are ideas that you could follow
If funds are low, explain to your staff that the Christmas reward budget has been cut down but you are open to suggestions that they come up with, then create a vote for the most popular choice to win.
Have a small event, this could be organising a buffet in the workplace where staff members all donate a dish of nibbles.
Create your own entertainment for free such as a quiz, and the winner wins a festive treat. Or join in the hype of a Secret Santa, where staff by each other a fun cheap present without each other knowing who it's from.
Let staff decorate the workplace with festive decorations, this will help create a positive environment for them to work in, thus finishing them work deadlines.
The final day before the Christmas break, most employers allow staff to finish a couple of hours early or work a half day, this is always a popular choice for

employees.
Christmas Parties
The talk of the workplace Christmas party is always a hype. But as an employer you should make sure to follow certain guidelines and rules, to avoid any unwanted disputes happening before, during and after the event. Read our party tips below:
Respect everyone's views and opinions as we live in a multi-faith country, and we have to remember not everyone will want to celebrate the Christmas festivities. Have a think about a different theme for the party, or that there are non-alcohol drinks available and various dietary requirements are noted.
Make sure no staff members are felt discriminated, just because they don't celebrate Christmas doesn't mean they should not be invited to certain events

or put on different shifts.

Health and safety are

still important, make sure any hazards that could harm anyone are assessed and resolved.

Keep the atmosphere clean, sometimes people can get carried away in the moment and a harassment claim can be made. Ensure to keep everyone under control to avoid any of these.
Watch the flow of the alcohol being consumed, by following the law that no one under the age of 18 is to drink will avoid any complications in the future. This also goes with drink driving make sure all staff who drink get home safely and don't drive under the influence. The use of drugs also needs to be managed, under the Misuse of Drugs Act of 1971 it is an offence

to use any type of drugs in the workplace.