Valentine's Day is the perfect day to show how much you care about your customers.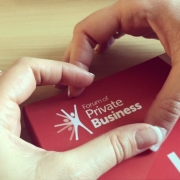 As a small business owner, you can use Valentine's Day as the perfect opportunity to increase your brand awareness with a quirky campaign or a love themed product display. So as a small business owner, what are things that you could be doing to help 'share the love'?
Top 5 'love-themed' marketing ideas for small businesses
We, at the Forum, have thought long and hard about all the love themed ways that could help your small business on Valentine's Day, so here are our top 5 ideas to help you make the most out of the most romantic day of the year!
1. Use Valentine's day as a reason to reach out to your customers
Public holidays and special occasions are a great excuse to offer your customers something extra special – perhaps a discount, or a special gift wrapping service. It might be simply writing something special in your window or creating an eye-catching display that passing customers will notice.
2. Communicate using a Valentine's theme
Use email and/or social media to communicate your favourite love-themed items from your shop, business or, alternatively, select things from your local community or city. Create a mini video or photo album and communicate this via social media. Make sure you select the items you know your customers will love to create the desired impact.
3. Show your customers you care
Customers should be at the heart of every business and Valentine's Day is the perfect time to show your customers how much you value them. You could send your top customers a personal email or card thanking them for their loyalty over the last year or give away candy or chocolates with every purchase? You could also have an online competition to give away vouchers to a restaurant for a romantic meal for two, a boat trip down the river or a ride on the London eye?
4. Create a love theme
If you have a shop front, theme it with some tasteful Valentine's items or simply edit your email signature and include a simple heart or funny message. Use your imagination and make sure whatever you do it fits with your audience and customer type.
5. Interact with your customers
Use social media to create lots of happy and healthy interaction with your customers. Ask them what they are doing on Valentine's day and if they are doing anything special. Support any of your customer's campaigns and messages by retweeting and commenting on their posts. This helps to raise the profile and loyalty of your customers and, if they reciprocate your good will, then it raises awareness of your brand with their followers too.
How are you celebrating Valentine's Day this year?
We'd love to hear what great ideas you have to market your small business this Valentine's Day and whether they have worked for you and your company?
Please get in touch via social media and we will share the love!
Useful links
Click here for help on how to manage romance in the workplace.