Work at height is the cause of many fatalities each year in the UK.  In 2014/15 the Health and Safety Executive (HSE) statistics show that falls from height accounted for nearly three (3) in ten (10) fatal injuries to workers.
Work at height is defined as:
Work in any place, including a place at or below ground level;
Obtaining access to or egress from such place while at work, except by a staircase in a permanent workplace.
Where, if measures required by the Work at Height Regulations 2005 were not taken, a person could fall a distance liable to cause personal injury.
Examples of work at height can include, but are not limited to:
Working on a ladder.

Working on a flat roof.

Working on a fragile surface.

Working near an unprotected edge, over a floor opening or a hole in the ground.
There is a hierarchy of control measures to reduce risk.  The following diagram shows the hierarchy specified by the Work at Height Regulations 2005: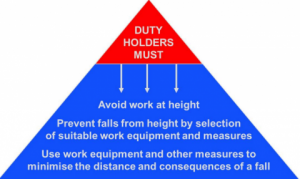 For every task that needs to be undertaken at height you need to assess the risk and put appropriate control measures in place.  The hierarchy shows that, in the first instance, measures should be put in place to prevent falls.  The assessment will determine the best way to avoid risk.  If the tasks cannot be avoided altogether, this may include selecting appropriate access equipment.
Where ladders (step ladders, podium steps, "hop up", etc.) are selected they should be regularly inspected and be suitable for the conditions (and tagged where appropriate).  Ideally ladders should only be used for access purposes and only ever for short term working (i.e. not over 30 minutes).  Where scaffolding is used anyone who erects it must be demonstrably competent – be that for fixed scaffolding or mobile scaffolding.  The equipment must also be regularly inspected to ensure that it remains suitable – for fixed scaffolding this should be every 7 days.  MEWPS and other forms of Lifting Equipment should be thoroughly inspected and tested for ongoing suitability every 6 months.
You must also ensure the provision of competent operatives (e.g. Work at Height Awareness Training, Ladder Training, Mobile Tower Training (e.g. PASMA), Mobile Elevating Working Platforms (MEWP) training (e.g. IPAF)).
Where there is proposed use of fixed scaffolding, tower scaffolds, MEWPS fall arrest systems, etc. you should also ensure the development of an emergency rescue plan if there are issues when working at height.  Issues may include accidents or incidents of ill-health that necessitate a rescue of an individual(s).
If you use Contractors as part of your operations you should also ensure that they are competent – ask for evidence of insurances, training, affiliations, qualifications and past projects to inform your decision-making on whether to employ them – remember it does not just come down to price.
Visit MD Safety Management for more information