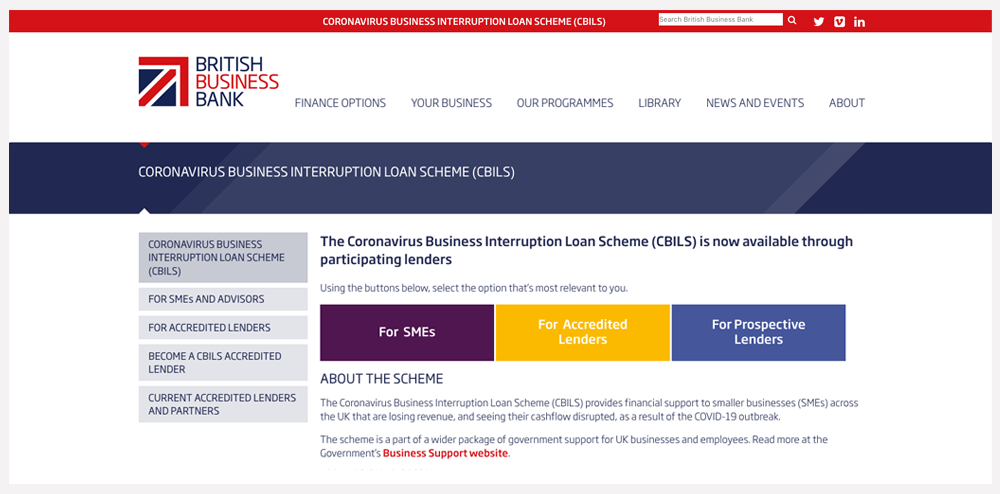 The Coronavirus Business Interruption Loan Scheme is open for applications.
It supports a wide range of business finance products, including term loans, overdrafts, invoice finance and asset finance facilities and can provide facilities of up to £5m for smaller businesses across the UK who are experiencing lost or deferred revenues, leading to disruptions to their cash flow.
Our members along with the wider business community have been complaining about the Coronavirus Business Interruption Loan Scheme. Lengthy applications, high-interest rates and personal guarantees being asked for.
To maximise the support available, the CBILS is being extended so that all viable small businesses affected by COVID-19, and not just those unable to secure regular commercial financing, will now be eligible should they need finance to keep operating during this difficult time.
Lenders can no longer request personal guarantees for loans under £250,000.
Operational changes are being made in order to speed up lending approvals.
The Chancellor has emphasised the importance of banks moving quickly to support the economy, jobs and businesses.
22/04/2020 More partners added to the scheme
Five new lenders have been approved by the British Business Bank for the Business Interruption Loan scheme. They are The Co-operative Bank, Cynergy Bank, OakNorth Bank, Starling Bank and Funding Circle.
In addition Arkle Finance, Close Brothers and Secure Trust Bank, recently accredited under the Enterprise Finance Guarantee, are now accredited under CBILS. Coutts has been accredited for CBILS as part of RBS Group's existing accreditation.
The CBILS website holds all the up to date information and includes all lender information. They have prepared an FAQ to help with queries.
For any members applying for these loans, please provide us with feedback. Email us at membership@fpb.org