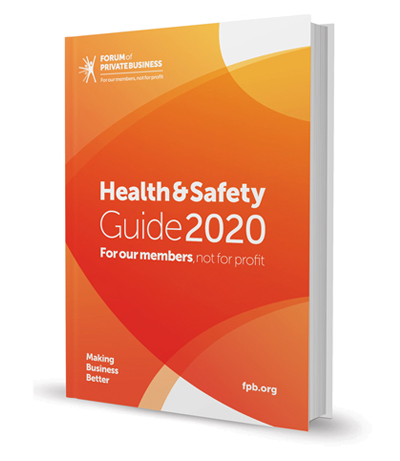 Forum Health and Safety Guide
Forum members will be well aware of our annual Health and Safety guide which we publish every year in April, the latest edition is in the process of being sent out from the publishers to all of our subscribers and that got me thinking!
At a time like this the guide contains some useful information, on home working and display screen equipment, as well as having covering staff in place in a short-term capacity, information which companies who are not usually faced with these issues will find useful.
But beyond that I was thinking how we can turn the current situation into some positives for small and micro businesses. Very often when I speak to busy business owners one of their main issues is time, you are often so busy running your business that you don't have the time to plan and do some of the basic administration and compliance tasks that aren't urgent or to look at them in as much detail as you would like.
Now is the perfect time for a small business, which may be closed, have staff working at home and are not as busy as usual to take the time to ensure that they have the right Health and Safety documentation in place.
Is your documentation up to date, do you have the right policies in place, is it tailored for your business specifically? Do you have the right posters up in a prominent place, are the old ones looking a bit tatty or have the wrong contact name on them, (fire, Health and Safety, first aid)? Have you checked your fire equipment, what about the first aid kit? are the contents in date and do you have all that you need.
Is the staff training up to date and if not do you need to schedule in some training for the future, my fellow director and I updated our first trade training last month?
We want Forum members to be ready to re-open their businesses in a healthy and proactive manner when the Covid-19 pandemic is over and using the Health and Safety guide and any spare time you currently have to do your planning and administration at this difficult time will be time well spent!
Our helplines and email links are also available to members who may have questions, so please use the guide wisely and if you have not subscribed to the guide the team can help with that as well.
Regards,
Ian