The Forum of Private business will help you and your business keep up to date with Employment Law.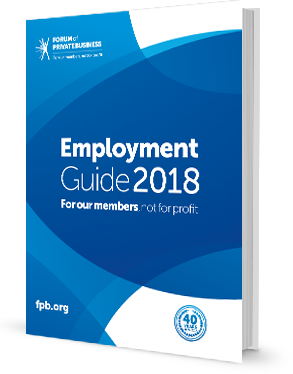 Setting up and running a business can be incredibly rewarding but there are also many problems to be faced. Not only are there economic pressures to be handled but there is a huge amount of administration, law and regulation to be understood and implemented.  Any shortcomings in a company's operations may cause serious problems further down the line.
Small businesses in the UK spend an average of £3,000 per year and 12 hours per weeks on compliance with employment law.  
The Forum can save you time and help you comply with practical, no-nonsense advice, support and protection.
That's why the right information at the right time can be crucial to a business' chance of success. The Employment Guide is a comprehensive, detailed and up to the minute examination of the procedures, practices and paperwork that every business needs in order to flourish and succeed in today's competitive and challenging commercial environment. Operating in tandem with the Forum's helpline, its an essential tool for all members.
In addition to these key elements, businesses need to know that they have access to legal advice whenever they need it and that's why the Forum has teamed up with rradar, a radically different law firm, created and run by recognised legal experts and industry professionals who have vast experience in advising private, public and charity sector organisations. Specialising in providing a wealth of proactive advice and support including representation in caution interviews, tribunal advocacy, accident investigation and guidance through court proceedings, rradar helps you to avoid the risks, costs and dangers that are associated with regulatory investigations and prosecutions.
Any conversation you have with rradar will remain confidential under the rule of legal privilege, meaning that it can't be used again you by a claimant, the police or other organisations.
Supported by rradar and with the full resources of the Forum, the Employment Guide is an essential tool for anyone interest in running a successful business.
Brings together everything you need to know about employment law in one easy to understand guide; from recruitment and induction to pay, absence management and dismissal.
Comes with more than 80 customisable templates for you to adapt to your own business including sample contracts, letters, policies and procedures.
Backed by our expert team of business advisors to give you reassurance and support with any issues you might be facing
Note: Forum Guides can be an additional charge subject to Forum Membership subscription. For any queries please contact our membership advisors on  01656 626001 or email

To join the Forum online today select the number of employees within your business from the table below and follow the instructions.
Have a question before joining? Send us a message... Click here
* Membership pricing displayed is exclusive of VAT and will be added at checkout. Forum Start-up Membership of £99 per annum is limited to a start-up business in their initial first 3 years of trading. Forum membership price will become applicable at the end of the 3rd year or if you employ an employee, whichever comes first. Forum membership is available for established businesses. Full T&C's apply which can be found here
** Annual membership covers all directors/principles; there are no hidden costs or fees
*** you must contact the member helpline before acting in any situation which might result in a tribunal to ensure your business is covered by our legal expenses insurance. Content is for informational purposes only and does not constitute legal advice. It is recommended that specific professional advice is sought before acting on any of the information given.
Thinking of becoming a member, but have a couple of questions? Ask our Membership Team: