The Quality Franchise Association (QFA) are delighted to announce a partnership with The Forum of Private Business.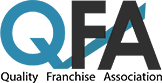 The QFA is a not for profit franchise association run on a voluntary basis by a team of experienced franchising experts. The QFA is led by CEO Joel Bissitt who has over 20 years of franchising experience. The mission of the QFA is to provide a cost-effective membership package that puts franchise association membership with the reach of all Franchisors. The membership package provides great value but a strong focus on tangible benefits for its membership making joining a franchise association & sharing best ethical practice within the reach of all franchise businesses.
The QFA was launched on 15th November & has already seen rapid growth including partners & members including The Forum of Private Business, easyHotels, Xero accounting software, Franchise UK & Perkbox.
Joel Bissitt, CEO of the Quality Franchise Association comments "The QFA is all about providing tangible benefits to our members. We are delighted to be working with The Forum of Private Business as this is exactly what they have provided for their members since 1977. In addition to the generous package they provide for QFA members I look forward to sharing ideas & learning from their experience of running a successful association in the coming years"